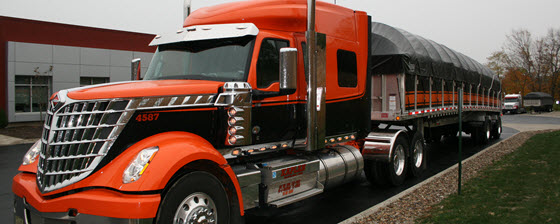 AGENTS/EQUIPMENT OWNER OPPORTUNITIES
Agents: A Road to Success
Kaplan Trucking is always looking for honest, hardworking people to join our business. If you are interested in representing Kaplan Trucking or just want to know how we can help you build your operation contact us today. Kaplan Trucking can provide driver recruitment, customer sales and strategic planning services to help you realize your long-term goals.
Equipment/Fleet Owners
Kaplan Trucking guarantees that we will accelerate your cash flow by settling with you at least once per week. We can handle all of your billing and collections, as well as your compliance and safety issues, including coverage of cargo and general liability insurance. Our 70+ terminal network is geared to help you control and reduce operating expenses while achieving your highest earning possibilities.
Streamlined Administration
It takes plenty of work to recruit and retain quality drivers. Our home office staff understands your concerns and we know that your job is more difficult than ever. Kaplan Trucking can help you stay on top of your business needs and streamline your administrative tasks:
Responsible for paying all your liability and cargo insurance costs
Understanding and managing the service requirements of your customers
Accurately fulfilling all customer-specific billing requirements
Monitoring new CSA rules and DOT regulations
Maintaining a strong message of safety and compliance among drivers
Settling with you and your domicile drivers once per week or more
When you join Kaplan Trucking, you join a company that takes pride in an extensive terminal network, top drivers, and a loyal customer base.