Experienced, Reliable Flatbed Trucking Throughout North America
In business since 1934, Kaplan Trucking is one of the most experienced steel hauling trucking companies in the United States, providing flatbed transportation services to a variety of customers. Through the years, Kaplan has grown to over 70 terminal locations in the eastern United States and Texas. But Kaplan remains true to its roots — taking great care of customers and drivers and building on these relationships.
TRAILER LEASE/PURCHASE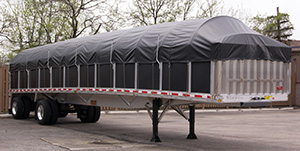 Reitnouer trailers for lease/purchase, no money down, flats and flats with sides available.