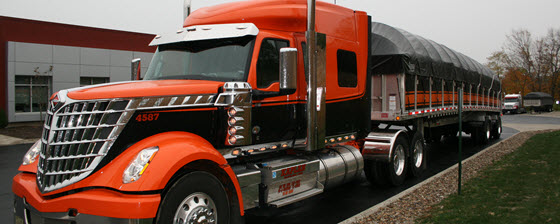 AGENTS/EQUIPMENT OWNER OPPORTUNITIES
Kaplan Trucking is always looking for honest, hardworking people to join our team. By converting your operation and running under Kaplan's authority, you gain three strategic advantages:
Elimination of both liability and cargo insurance costs and as a result, no further annual renewal negotiations with insurance carriers.
A financial windfall that results from the increased velocity of your cash flow and a significant reduction in administrative and IT support costs that you will no longer need to manage.
Comprehensive operational support that results from operating within the Kaplan network. We operate more than 70 terminal locations throughout the eastern half of the United States and Texas, including but not limited to operations in: Western Pennsylvania; Cleveland, Ohio; Gary, Indiana; Birmingham, Alabama; Louisville, Kentucky; Charleston, South Carolina; and more.
Company Support
Kaplan knows how difficult it is to recruit and retain quality drivers while also managing a successful business. Our home office staff in Cleveland, Ohio understands your concerns and knows that your job is more challenging than ever. We can help you manage your business, streamline your administrative tasks, and help you significantly reduce your operating costs.
In partnering with Kaplan Trucking:
You'll have immediate access to the Kaplan freight network of 70+ terminals operating throughout the U.S. and benefit from our long-standing relationships with key shippers in their respective areas.
Our negotiated fuel discount program includes some of the country's largest truck stop chains. Fuel discounts average $0.65 per gallon.
Through our trailer lease purchase program, drivers can own a new or used MAC trailer with no money down and no credit checks. Spread two-axle, three-axle, and four-axle trailers available (based on inventory and previous driving experience). In some cases, the savings from Kaplan's fuel discounts can offset the entire cost of a trailer lease payment.
When you join Kaplan Trucking, you join a company that takes pride in our extensive terminal network, our operational expertise, our best-in-class programs, our experienced management that keeps your best interests at the forefront, our safe and experienced drivers, and our loyal customer base. These strengths, coupled with the fact that we have your back at every turn, translate into significant cost savings for your operation and allow you to focus your efforts on your customers, your drivers, and ultimately, growing your business.